Derby crash wedges car between telegraph pole and house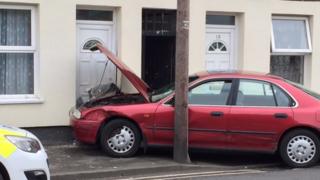 A woman has been taken to hospital with chest pains after the car she was a passenger in became wedged between a telegraph pole and a house.
A man and his son were in the house in Derby at the time but they were not injured.
The driver of the car is also believed to be unharmed following the crash, which happened in Walbrook Road, Normanton, at about 15:45 BST.
Police said there was structural damage to the house.