Sports Direct boss Mike Ashley accuses 'antagonistic' MPs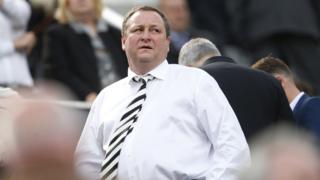 Sports Direct boss Mike Ashley has accused MPs of being "deliberately antagonistic" after he was threatened with being in contempt of Parliament.
Mr Ashley failed to appear before a business select committee regarding working terms and conditions at the company's warehouse in Derbyshire.
In a letter, he accuses MPs of "abusing parliamentary procedures" in order to "create a media circus at Westminster".
Chris Bryant MP said the House could "force" Mr Ashley to attend a meeting.
The row follows a BBC investigation into the work practices at the company's warehouse in Shirebrook.
Updates on this story and more from Derbyshire
The Newcastle United FC owner was given a deadline of 21 March to respond to a letter from MP Iain Wright - who chairs the Business, Innovation and Skills (BIS) select committee - following his no-show.
The letter said the committee reserved the right to "take the matter further" should he not attend future dates.
In response, Mr Ashley said: "I was disgusted to learn that you have adopted a stance that is deliberately antagonistic.
"By refusing to visit Sports Direct to see things with your own eyes, you are missing out on a genuine opportunity to gain a detailed and balanced understanding of the matters you wish to discuss.
"I believe you are abusing parliamentary procedure in an attempt to create a media circus in Westminster, which is not in the best interests of any of the people who work at Sports Direct."
It is thought that no one has been charged with contempt of Parliament since the 1950s.
Mr Bryant said in the Commons on Thursday: "[Mr Ashley] may be the 22nd richest man in Britain, but he is running a modern day sweatshop and this House will get to the truth."
The committee is due to meet on Tuesday to discuss the next steps following Mr Ashley's correspondence.