Riber Castle: Empty Gothic castle turned into flats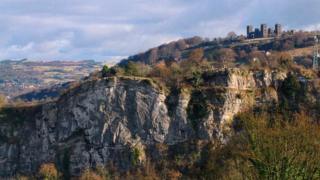 A castle which has not been lived in for almost a century is being turned into flats.
Riber Castle dominates the skyline above Matlock in Derbyshire but nobody has lived there since the 1930s.
A zoo operated within the grounds until it closed in 2000.
The once derelict building features at the end of the Shane Meadow's film Dead Man's Shoes.
The mock Gothic castle was constructed between 1862 and 1866 by John Smedley, an entrepreneur in nearby Matlock.
His family owned Lea Mills - close to Arkwright's ground-breaking Cromford Mills factory.
It is believed to be the oldest working factory in the world.
The industrialist branched out into spas, building Smedley's Hydro - now home to Derbyshire County Council.
He built the castle overlooking Matlock and Matlock Bath as a family home to show off his wealth.
After he died, his wife continued to live in Riber Castle until her death in 1892 when it was bought by the Rev William Chipett, who converted it into a boarding school.
It has never been occupied since it closed in 1930 - although it was used as an emergency food store during World War Two.
Over the past 15 years, Cross Towers Ventures sought planning permission to convert it into flats.
Although the work is not yet complete, the development is now up for sale.