Firm fined £6,000 in 'landmark' bat roost case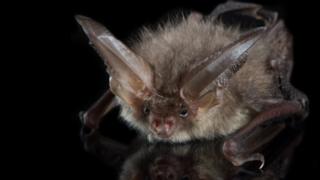 A company which destroyed a protected bat roost has been fined £6,000 in a "landmark" case.
ISAR Enterprises Limited destroyed the bat roost while renovating a property in Matlock, Derbyshire, in 2012.
Derby Crown Court heard on Monday the firm saved money by failing to protect the roost and ordered to pay back what it would have spent.
The Bat Conservation Trust said it was the "most significant conviction for bat crime ever recorded."
Hargurdial Singh Rai and his company ISAR Enterprises Limited were convicted in April 2014 of destroying the roost of brown long-eared bats.
'Wildlife crime'
The conviction against Mr Raj was quashed on Monday but an appeal against conviction by ISAR was dropped.
The company was sentenced to pay £5,737 under the Proceeds of Crime Act - the amount it would have spent on surveys and to protect the roost.
Wildlife crime officers at Derbyshire Police described it as a "landmark" ruling.
The trust added: "Not only is it the first occasion where such a case has been heard in the crown court, but to our knowledge it is the first time that a Proceeds of Crime application has been heard in relation to any wildlife crime not involving the illegal trade in endangered species."
The company was fined an additional £3,000 and ordered to pay £2,000 costs.
Bats and the law
It is a criminal offence to:
Deliberately capture, injure or kill a bat
Intentionally or recklessly disturb a bat in its roost or deliberately disturb a group of bats
Damage or destroy a bat roosting place (even if bats are not occupying the roost at the time)
Possess or advertise/sell/exchange a bat (dead or alive) or any part of a bat
Intentionally or recklessly obstruct access to a bat roost
Source: Bat Conservation Trust