Thomasina Bennett: Carer 'panicked' after wardrobe death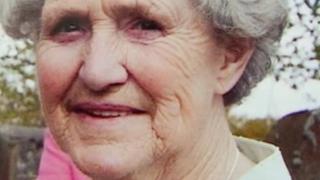 A carer "panicked" when she found an 80-year-old woman with Alzheimer's Disease dead underneath a wardrobe, Derby Crown Court heard.
Thomasina Bennett, from Belper, was in respite care at Milford House Care Home in April 2012.
Care assistant Julie Winters told the court when she entered the room she could see the wardrobe on the floor and just Mrs Bennett's feet.
Milford House Partnership has denied two health and safety at work charges.
'Out of bed'
Ms Winters said: "I just saw the furniture, the wardrobe laid across the floor. I could see her feet.
"I called her name three or four times. I fully admit I panicked."
She told the court that Mrs Bennett's personal activity monitor had not gone off before she was found.
Mrs Bennett's daughter, Margaret Calladine, told the court that her mother was in the home for short-term care.
She said she explained to a member of staff that her mother got up out of bed two to three times during the night and needed help to walk.
Mrs Calladine said: "She told us that my mother would be monitored and if she got out of bed someone would be aware."
'Very unfair'
The court also heard from Ronald Gretton, the managing director of Call-Aid UK, the company that supplied the monitoring system.
He was told by defending barrister John Copper, QC, for the Milford House Partnership, that after tests the Health and Safety Executive said the monitors were "unsuitable for use in a safety-related application".
Mr Gretton replied: "I think that's very unfair."
Gerald Hudson, 72, from Ambergate, trading as Milford House Partnership, denies both charges brought under the Health and Safety Act.
He does not have to appear in the dock or attend court as the charges are brought against the partnership.
The case continues.