Derby County fan spells out 'We hate Forest' with roof tiles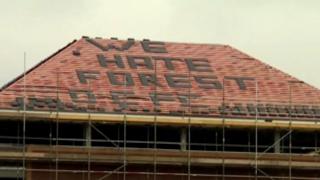 A Derby County fan has slated his team's rivals by spelling out "We hate Forest" in roof tiles on a building he was working on.
David Greenall did it for "a bit of a laugh" and hopes Nottingham Forest fans will see the funny side.
He told the Derby Telegraph the developer is also a Rams fan.
The words will remain visible for a few days until he starts covering the rest of the roof of the building, which is next to the A50 at Chellaston, Derby.
Updates from this story and more from Derbyshire
Mr Greenall said fellow fans have been beeping their car horns in support every few minutes as they drive past.
"The reaction at the moment has been phenomenal," he said.
"It's not very often you get a roof in such a prominent position on a major A road and I thought 'Ooh Nottingham is up the road, there's a big game coming up'.
"Hopefully the Forest fans will take it in the context that it was meant to be, which is a bit of fun."
The fierce East Midlands rivals next face each other in a Championship clash on Saturday 19 March.