Derby Hippodrome: Blaze treated as arson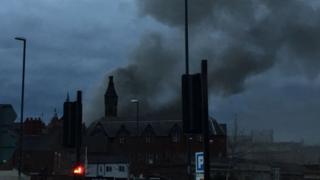 A fire at a 100-year-old derelict theatre in Derby city centre is being treated as arson.
Eight crews took almost 20 hours to put out the blaze at the former Derby Hippodrome, in Green Lane, which started at about 17:30 GMT on Sunday.
The fire service said the building has been targeted by arsonists several times since it closed in 2007.
A trust which wants to carry out a £20m restoration said the latest fire could speed up a compulsory purchase.
Updates on this story and more from Derbyshire
Derbyshire Fire and Rescue Service said it had not been able to begin a formal investigation as the building was unstable.
However, group manager Bob Curry, of the fire service, said: "There's no gas or electricity supply... so there is no potential for an accidental fire unless someone's started a campfire for food. The likelihood is the fire was set deliberately."
The Hippodrome opened in 1914 and was last used as a theatre in 1959 - almost 60 years. It then became a bingo hall before closing nine years ago.
Derby Hippodrome Restoration Trust has been wanting to buy the site for over five years and carry out a £20m restoration.
It believes the fire could speed up a compulsory purchase order by Derby City Council allowing the trust to then buy the building off the authority.
Joan Travis, of the trust, said: "Maybe [the fire] will make people sit up and say, 'something must be done'. Maybe they'll look at our plans now."
The Theatres Trust said it had "real concerns" about Derby Hippodrome's future. It is on an at-risk register.
"For those theatres that have been neglected by their owners and are at greater risk, it becomes doubly important to have foolproof safety and security measures in place," it said.