Fatal crash car on 'wrong side' of A52 dual carriageway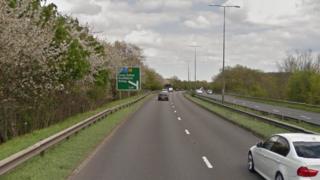 Police believe a car travelling on the wrong side of a dual carriageway resulted in a head-on crash which killed a man and seriously injured two others.
Officers were called to a collision between a Volkswagen Beetle and an Audi on the A52 Brian Clough Way in Risley, Derbyshire, just after midnight.
The 56-year-old Audi driver, from Long Eaton, was declared dead at the scene.
Derbyshire Police said it is still looking into the cause of the crash.
A police spokesman said: "It is believed one of the vehicles was travelling in the wrong direction of the A52."
The crash, on the Nottingham-bound carriageway, resulted in the closure of the road for several hours.
The two occupants of the Volkswagen - a 28-year-old man and a 29-year-old woman - were taken to Nottingham's Queen's Medical Centre. Their injuries are not thought to be life-threatening.
Anyone with any information on the crash is asked to contact Derbyshire Police.