Chesterfield house fire: Murder arrest over woman's death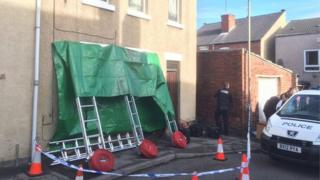 A man has been arrested on suspicion of murder after a woman was found dead at the scene of a house fire.
Firefighters found the body of 32-year-old Gemma Stevens at her home in Catherine Street in Chesterfield in the early hours of Thursday morning.
A neighbour who rang the fire service described seeing smoke then desperately banging on the door of the house to try to get her attention.
Derbyshire Police have arrested a 35-year-old man on suspicion of murder.
Neighbour Deaton Josephs said: "I was kicking on the door and shouting... I was thinking she wasn't home because I was banging on the door for a good five minutes."
He said he was "shocked and upset" because he saw the fire increase in severity while he waited for firefighters.
He described seeing "six foot flames inside the lounge" by the time they arrived.
The neighbour, who regularly saw Ms Stevens, rang the fire service at about 02:00 GMT.
Police have asked anyone with information to contact them.