Mercian Regiment announces new Private Derby XXXI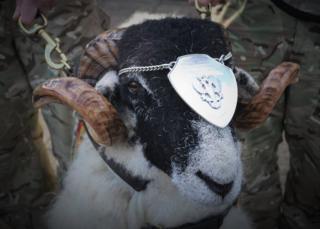 A British Army regiment has announced its new sheep mascot following the death of its predecessor.
The Mercian Regiment said Private Derby XXXI was officially selected by the Duke of Devonshire from his flock at the Chatsworth Estate, Derbyshire.
The Swaledale Ram helped to form a guard of honour for a Premiership rugby union match on Saturday.
Lance Corporal Derby XXX, who switched on Ashbourne's Christmas Lights in 2014, died in November.
Private Derby XXXI, who will be based at RHQ Mercian, Lichfield, Staffordshire, is set to begin training for tasks including leading soldiers out on parade and marching out the players at Derby County.
The animal's first public appearance will at an Aviva Premiership rugby union match between Worcester Warriors and Sale Sharks at Sixways Stadium, Worcester.
The ram is the 31st mascot going back to the Indian Mutiny War in the mid-19th Century.
The first Private Derby was acquired in 1858 by the 95th (Derbyshire) Regiment of Foot and became the mascot of the Mercian Regiment when it formed in 2007.
The animal has his own army number, gets paid to buy his rations and can take his holidays during the mating season at Chatsworth.