Match.com rape trial: Accused 'messaged victim after attack'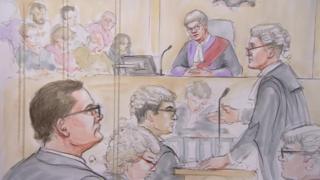 A man attempted to rape a woman he met through Match.com then contacted her saying "Boo! xx" 24 hours later, a court has heard.
Jason Lawrance is accused of raping five women he met on the dating website, attempting to rape a sixth woman and sexually assaulting another.
He is alleged to have assaulted victims from five counties between June 2011 and November 2014.
The 50-year-old, of Liphook, Hampshire, denies the charges.
On the second day of his trial at Derby Crown Court, jurors heard the account of a woman who met Mr Lawrance at her home in Spalding, Lincolnshire, in July 2013.
She said the pair had chatted online and had good "banter", and he asked to drive over and meet her in person.
Mr Lawrance asked the woman if he could have a bath at her house - which she described as "a bit upfront" - and she said the pair went out for a drink before returning and drinking more.
He asked if he could stay the night and the woman told police she had agreed on the condition that he stayed on the sofa.
The woman then went to bed and was awoken by an "awful weight" on top of her, she said.
She said: "I realised it was him. I told him 'No, what are you doing?'.
"At that point I realised I had my [pyjama] bottoms off. He was smothering me and got my arms back and told me to be quiet.
"The more I was saying no, the more he was aroused."
Her 16-year-old son was asleep in a nearby bedroom, and the woman said she managed to shout for him after moving Mr Lawrance's hand off her face.
Mr Lawrance then left the house, she said, but contacted her through Match.com the following day with the message "Boo! xx".
She reported this to Match.com - making her one of four women to have made a complaint to the site about Mr Lawrance.
The woman told police: "I did not quite understand it. Was he trying to scare me?
"Trying to pretend that nothing had happened? I don't know."
The trial is expected to last two weeks.