Royal Derby Hospital: Patient Simon Tulitt died due to hospital 'failure'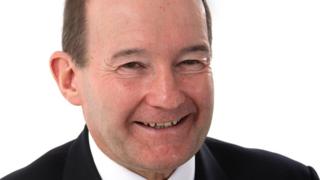 A cancer patient died because of a hospital's "gross failure" to give him the correct antibiotics, a coroner has concluded.
Simon Tulitt, from Burton-on-Trent, Staffordshire, had key hole surgery for bowel cancer at Royal Derby Hospital but died two days later from septicaemia.
Coroner Paul McCandless said the hospital's neglect directly contributed to his death.
The hospital has apologised.
The 62-year-old father of two was admitted for elective surgery to have a cancerous lump removed from his bowel in May 2013.
But the team failed to administer preventative antibiotics before the operation and the following day he fell ill.
Two days later his life support was turned off.
Medical experts told an inquest in Derby it took too long to spot he was suffering from septicaemia and had "timely and appropriate antibiotics been given he would have survived".
Mr McCandless concluded it was a "gross failure to procure basic medical attention" and the hospital's neglect directly contributed to his death.
'Heartfelt apology'
Speaking after the hearing, widow Janet Tulitt said: "I'm relieved we've finally got here and relieved the coroner has been thorough and seen the failings of the hospital.
"Up until recently, [the hospital] denied the fact they haven't followed their own procedures. So it's been a long haul to get this far."
Derby Teaching Hospitals' executive medical director Dr Nigel Sturrock said antibiotic policies had been revised and made more readily available.
"On behalf of the trust I want to offer Mr Tulitt's family my heartfelt apology for our failures," he said.
"Of course an apology cannot undo what happened or make the family's loss any easier. We acknowledge that there were a number of failings in the care provided."