'Grand Designs' ex-reservoirs sell at auction for £450k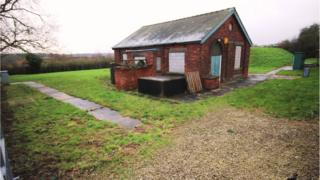 Plots of land formerly used as reservoirs, mooted as potential sites for "Grand Designs-style" homes, have sold for a combined total of nearly half a million pounds.
The four redundant reservoirs, in Derbyshire, Worcestershire and Shropshire, went under the hammer on behalf of Severn Trent Water.
Auctioneers said the plots offered "magnificent views" of countryside.
The collective guide price of the reservoirs was originally £70,000.
Updates on this story and more from Derbyshire
The most expensive of the four reservoirs in the online auction was Derbyshire's Bog Lane site in Melbourne, which sold for £221,500.
Another site in Derbyshire, at Melbourne Common, sold for £85,250, while the Stonehall Reservoir in Kempsey, Worcestershire, was purchased for £97,000.
The cheapest was the Posenhall Reservoir, in Broseley, Shropshire, which was sold for £48,000.
A fifth reservoir, in Matlock, Derbyshire, was due to be sold, but it was not deemed ready for auction and will now be sold at a future date.
Oliver Childs, of Lambert Smith Hampton (LSH), said interest came from as far as Sweden, Germany and Hong Kong, with 116 registered bidders.
"It was quite a phenomenal result," he said.
"When you go to some of these sites and you stand on top of the reservoir, you do feel like you're in your own little world."
Similar types of reservoirs go on sale just "a couple of times a year".
LSH said the locations had "strong potential for...'Grand Designs' style conversion to residential or holiday accommodation use".
But Mr Childs said all the buyers will need to obtain planning permission and will have to be "imaginative" and "sympathetic to the surroundings".
The sites are described as having "an earth covered, above ground redundant reservoir constructed of reinforced concrete".
The size of the plots range from about 0.20 acres (0.08ha) to 0.51 (0.21ha).