More cannabis found in former Derby Debenhams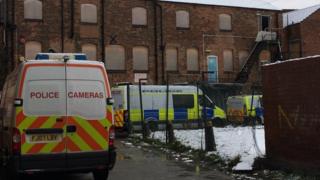 Police have found an additional 1,000 cannabis plants in a former Debenhams store after initial raids uncovered thousands of the plants.
The follow-up raids seized the plants in the empty upper floors of the store on Victoria Street in Derby bringing the total to almost 3,000.
Officers spent the weekend removing the plants and growing equipment.
Police are working with the building's owners to establish how the drugs came to be there and identify suspects.
'Real shock'
Mick Harding, who runs a furniture store located in another part of the building, said he called police when his electricity bills were much higher than usual.
"The electricity bills went up to £13,000 a month and we thought it was a problem with the meters," he said.
"So we went to the top of the building to make sure the meters were off.
"We phoned the police but we must have spooked them by switching the electricity off," he added.
No arrests have been made yet, police said.
The Rev David Downing, from the nearby Central United Reformed Church, said: "A lot of people found it a shock because this is right in the heart of the city.
"It is very dark and shadowy around here - it sounds such a big operation so how did we not put the pieces together?"
A police spokesman said officers found the second set of plants in a part of the building that was difficult to access.