Derby family 'frustrated' at not being able to return home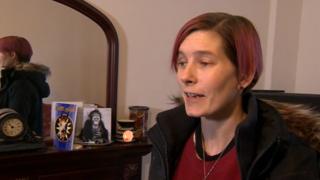 A mother has said she is "exhausted and frustrated" at still not being able to return home, almost four months after a lorry crashed into her house in Derby.
Suzey Fletcher and her six children have been living in temporary accommodation since October.
She has not been able to collect the children's clothes, passports and birth certificates.
The family's former landlord said the delay was down to the insurance process.
The terrace property on Osmaston Road was severely damaged when a lorry collided with the family car, pushing it into the front of their house.
"I'm frustrated, really, really frustrated" Ms Fletcher said.
"I'm exhausted by it. You reach a point where you just want to move on, start again in a new house and get settled.
"We can't do that because there are things hanging over us and there are things I need back from that property or I need to replace them".
Repair work means it will be another month before the family can return to collect their belongings.