Langley Mill and Mansfield door company 'will not reopen'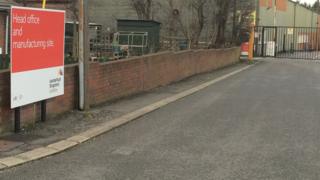 Administrators have confirmed a door manufacturing company which employed more than 400 people will not reopen.
Leaderflush Shapland, which has sites in Langley Mill in Derbyshire and Mansfield in Nottinghamshire, closed over the holiday period.
Redundancy notices were sent to staff - including six members of the same family who worked at the Langley Mill site - on New Year's Eve.
Trade union Unite called the closure a "severe body blow" to the economy.
More news and updates from Derbyshire
The company is one of seven divisions which make up Laidlaw Interiors Group. Administrators Deloitte said buyers for the other six divisions have now been found, saving 527 jobs.
Joint administrator Richard Dawes said: "Despite the best efforts of the company, and ourselves, it was simply not possible to secure a buyer for this division."
There were a total of 309 staff in Langley Mill and 82 in Mansfield, as well as 23 at an office in Barnstaple. Thirty-two have been retained to help with the wind down of the firm.
Heather Stocks, 56, said she was "crushed" when she received her notice of redundancy.
Mrs Stocks, from Eastwood, Nottinghamshire, worked at the firm along with stepson Daniel, 31, daughter Calandra Hatton, 22, son-in-law Steven Williams, 42, nephew Nick Carlin, 25, and brother-in-law Pete Wharton.
"People used to jokingly call it Leaderflush and Stocks," Mrs Stocks said. "I would love my job back, I loved it."
Unite said an event for affected employees will be held at Jobcentre Plus in Alfreton, Derbyshire, on Thursday.
Regional officer Garry Guye said: "It is a bleak welcome to 2016 for this dedicated workforce.
"It's about making sure we give our members every bit of support and advice that we can."