Joseph Wright painting sells for £665,000 in aid of Syrian refugees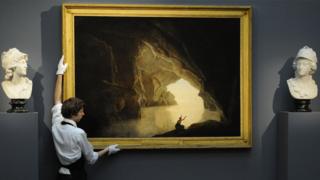 A masterpiece of British art has been sold for £665,000 by a family who owned it for 170 years - with the money being donated to help refugees.
Former High Sheriff of Derbyshire Godfrey Meynell donated the painting of Julia by acclaimed 18th Century artist Joseph Wright to Christian charity Us.
The painting originally had a price tag of £150,000 but fetched far more when auctioned by Sotheby's on Wednesday.
The Reverend Tim Harford said the money would help Syrian refugees in Greece.
Mr Meynell, who acted as a human shield in Iraq, said his family wanted to use the money from the painting sale to help others.
The full name of the painting is A grotto in the Gulf of Salerno, with the figure of Julia, Banished from Rome.
It depicts Julia, believed to be the granddaughter of the Roman Emperor Augustus, as a young woman in exile, holding out her hands in a cave near Naples.
Updates on this story and more from Derbyshire
It was painted after the Derby-based artist Wright travelled to Italy in 1774 and was bought by Joshua Cockshutt, from Chaddesden in Derbyshire, for £105.
The original work is the last of several pieces by the artist held at Meynell Langley Hall, given to the family in 1840.
"I'm glad she is going to do a good job for the refugees," said Mr Meynell.
"It's left the family feeling good. These people are in worse shape than even the poor in our country and we need to do more to help those at the bottom."
Mr Harford, director of fundraising at the charity said: "This is a remarkable gift and a very unusual one.
"The fact that Julia is a refugee makes the donation especially poignant.
"Supporting people at every stage is our goal and the needs of people around the world is never ending."
He said the money would go towards providing shelter, food and healthcare to Syrian refugees.
---
Joseph Wright 1734-1797
Known as Joseph Wright of Derby, he was the first major English painter to be based outside London
Wright was the first artist to depict industry and scientific experiments of the age
He was noted for his use of chiaroscuro, which emphasises the dramatic contrast of light and dark
---
However, some people in Derbyshire have criticised the use of the money to help refugees.
On Radio Derby's Facebook page Matt Stephenson wrote: "Just shows people are willing to help foreigners rather than people suffering in this country is ridiculous!!"
Paul Sanders said: "Should look after our own first."
But others supported the the Meynell family's generosity.
Richard Sleigh said: "It's absolutely their choice what they do & really no one else's business what they choose do with their belongings."
Anita Bexon added: "Why criticise a family who are selling their own painting to help others? Well done the Meynells. A truly Christian gesture."