Joseph Wright painting to be sold in aid of Syrian refugees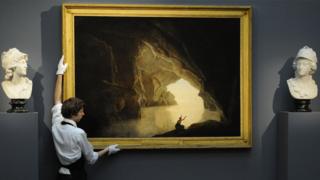 A masterpiece of British art is to be sold in aid of refugees by a family which has owned the work for 170 years.
Former High Sheriff of Derbyshire, Godfrey Meynell, gifted the painting of Julia by Joseph Wright, to Christian charity Us.
The group said the money would be used to help Syrian refugees in Greece.
Mr Meynell, who acted as a human shield in Iraq, said he hoped it would stay in Derbyshire but admitted the £150,000 price tag made that unlikely.
The painting depicts Julia, believed to be the granddaughter of the Roman Emperor Augustus, as a young woman in exile, holding out her hands in a cave near Naples.
Updates on this story and more from Derbyshire
It was painted after the Derby-based artist Wright travelled to Italy in 1774 and was bought by Joshua Cockshutt, of Chaddesden, Derbyshire,for £105.
The work is the last of several pieces by the artist held at Meynell Langley Hall, given to the family in 1840.
"It's a fairly awesome picture because of its size and because of the cave," Mr Meynell said.
"It's an original Joseph Wright which my three times great-grandfather received in part exchange for a debt.
"We will be sad to see it go but proud if it reaches a good price."
---
Joseph Wright 1734-1797
Known as Joseph Wright of Derby, he was the first major English painter to be based outside London
Wright was the first artist to depict industry and scientific experiments of the age
He was noted for his use of chiaroscuro, which emphasises the dramatic contrast of light and dark
---
The idea for the sale came from his son, also called Godfrey, who felt the family should do something to help the crisis in Syria.
The painting of the grotto in the Gulf of Salerno is being sold later at a Sotheby's auction of Old Master and British paintings which includes a Constable and a portrait of Henry VIII.
The Rev Tim Harford, Us director for fundraising and communications, said: "The fact that Julia is a refugee makes the donation especially poignant and we look forward to seeing what the painting achieves at auction."