Relocation fears over Derbyshire County Council care home closures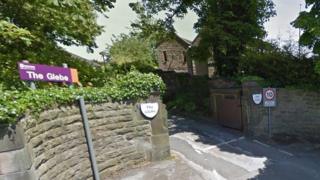 The daughter of an 89-year-old woman whose care home is set to close says she fears a move to another home will kill her.
Derbyshire County Council has confirmed it is closing four care homes, including the Glebe in Alfreton, where Heather Arden's mother is a resident.
The authority said the homes were not financially viable, but understood people's concerns.
About 78 residents will be affected by the closures.
Mrs Arden, whose mother has dementia, said: "We are absolutely devastated by the news.
"We always believed it was a foregone conclusion - it's left the staff, residents and families really distressed."
She added: "I don't think, in my opinion, my mother will survive the move. It will be too distressing for her because she's at a point in her life where she's like a child.
"She won't understand why she's been taken out of her home.
"All I can do now is try and get her the best possible alternative and just hope I am wrong."
The homes affected are:
The Willows, Ripley
Red House, Chesterfield
The Glebe, Alfreton
Hillcrest, Kirk Hallam, Ilkeston
Councillor Paul Smith, cabinet member for adult social care, said the authority would support those affected "every step of the way".
He said: "I have every sympathy with them but unfortunately we have no choice."
No decision on a time-scale for the closures has been made.