Ashbourne 'horrific attack' robbery: Two people arrested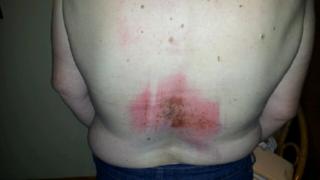 Two people have been arrested in connection with a "horrific attack" on a woman who was tied up in her Derbyshire home during a robbery.
A man, 50, and a woman, 47, both from South Yorkshire, have been arrested on suspicion of the robbery on 17 October.
June Shaw, 62, was dragged across the floor and bound to a chair in her home in Shirley Common, near Ashbourne.
The pair, from Barnsley, have been released on bail while Derbyshire Police investigate.
Mrs Shaw was grabbed by three masked men when she went in to the back garden to investigate her dog barking at about 20:00 GMT.
One man, who threatened her with a crowbar, spoke with a West Midlands accent. Another man wore distinctive red trainers.
The gang left with sentimental jewellery and gifts, leaving Mrs Shaw strapped to the chair.
Detectives have released a CCTV image of a pedestrian walking along the A52, from Ashbourne towards Derby, at about 20:30 GMT on the night of the robbery.
They said the man was sighted opposite the Shirley and Longford turnoff and may have witnessed something which could help them.
He wore a dark coloured baseball-style jacket, which had lighter coloured sleeves.
Detectives are also trying to trace the movements of a red Fiat Multipla used by the robbers, which was found burnt out two miles from Mrs Shaw's home.
The charity Crimestoppers has offered a reward for up to £10,000 for information which leads to the arrest and conviction of those responsible.