Five pet rabbits 'killed' by noisy fireworks, it is claimed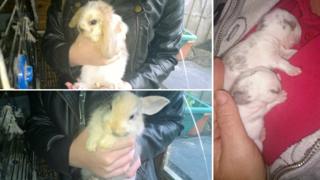 Five pet rabbits died of fright when firecrackers were set off near their home, a family has said.
Sue Cox, of Littleover, Derbyshire, said five of her eight bunnies died over the course of the weekend, "squealing" from fright .
She said ordinary fireworks were not a problem but people should be considerate with use of bangers.
Vet Amy Labbate, from PDSA, said it was unusual for rabbits to die of fright but it could happen.
Ms Cox said: "You don't just lose rabbits like that. One I think had a stroke on Friday night - it was just lying there. The bangers were going off, they were all squealing, we tried to calm them down and then another one went - just died."
Updates on this story and more from Derbyshire
The rabbits were named Marley, Jamis Pjamis, Topsy, Turvey and Bramble.
Ms Cox said on Saturday evening she used a radio to try to drown out the sound of the fireworks but she found one "dragging its legs along the floor".
She brought the bunnies inside from their hutches in the shed but it was too late and two more died in the arms of her autistic son, who now blames himself for their deaths.
Although Ms Cox holds the firecrackers responsible for the five deaths - and two guinea pigs several years ago - she said responsible and considerate use of ordinary fireworks did not cause a problem.
Ms Labbate, from the Derby branch of charity PDSA, said that rabbits are sensitive to loud bangs from fireworks whose natural instinct is to run away.
"It's unusual and without looking at them I couldn't say for sure, but rabbits in particular do get very scared and frightened and unfortunately, yes, it could be possible," she said.