Rolls-Royce Battle of Britain window is rededicated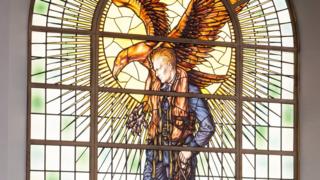 A window honouring pilots and ground crew of the Battle of Britain has been rededicated.
The stained-glass monument was unveiled in 1949 at Derby's Rolls-Royce factory which has since closed.
A service to rededicate the work coincided with the 75th anniversary of the end of the Battle of Britain.
Rolls-Royce built the Merlin engine which powered Hurricanes, Spitfires and Lancaster bombers and has been credited with helping to win World War Two.
The window was part of the company's Nightingale Road factory in Derby from 1949 until it was closed in 2007.
At its unveiling, a special train brought guests from London, including Grp Capt Douglas Bader, who lost both his legs before the war.
Despite using two prosthetic limbs he was a fearsome pilot until he was captured in Germany - where he made several escape attempts.
The window features a pilot standing on top of a three-blade propeller, typical of a Spitfire or Hurricane used in the battle.
The window is now part of the company's visitor centre in Derby and was rededicated in a service on Saturday with RAF veterans and Battle of Britain pilots guests of honour.
A replica of the window is being created to be part of the redevelopment of the company's former building in Osmaston, Derby.
---
Rolls-Royce and the Battle of Britain
The company's Nightingale Road plant in Derby was camouflaged during World War Two to protect the manufacture of Merlin engines, which powered Spitfires, Lancaster bombers, Mustangs and more
Demand for the engine meant another Rolls-Royce factory was built near Glasgow
The event to unveil the window in 1949 was hosted by the company's Managing Director Ernest Hives and attended by guests including pilot Grp Capt Douglas Bader