Derby University students in HIV scare get payouts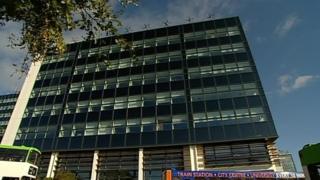 A group of students put at risk of contracting HIV when they were given blood tests with re-used syringe barrels have received payouts.
More than 600 Derby University students given blood tests or vaccinations by the same health worker from 2005 to 2013 were contacted last year.
Fifty have now received compensation after being put at risk of infection.
Their solicitors said they had suffered "stress and worry" while awaiting test results.
The affected students were tested for HIV or hepatitis, with all results coming back clear.
'Not life-changing amount'
However, 106 students sought compensation, with 50 of them successfully securing a settlement.
The University of Derby called the blunder a "regrettable incident" and said it had worked closely with NHS England to provide information and support to the affected students.
A spokesman said it was "pleased" to hear claims were now being dealt with.
Mike Massen, from Cohen Cramer Solicitors, which represented some of the students, said many were "terrified".
He said the Medical Protection Society (MPS) was responsible for paying out the compensation.
"It's not a life-changing amount but it is compensation for the stress and worry these people have suffered as a result of the negligent actions of others," he said.
Derby-based HIV organisation, Well For Life, helped support some of the students after they received the letters.
Manager, John Moore, said: "I'm pleased they have received the compensation they deserved.
"There was very little risk but there's no excuse for bad practice in the medical profession."
The MPS said it could not comment as it did not have relevant details of the case, including the name of the healthcare worker involved.