Derbyshire sexual harassment NHS trust investigated by watchdog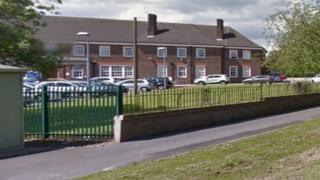 A health watchdog is investigating an NHS trust after a sexual harassment employment tribunal highlighted concerns.
Monitor said it was investigating Derbyshire Healthcare NHS Foundation Trust to see if there were other issues with way the trust was run.
It comes after a tribunal ruled trust chairman Alan Baines had sexually harassed HR director Helen Marks.
The trust said it welcomed the investigation.
It also confirmed its chief executive, Prof Steve Trenchard, has been suspended.
'Bully and manipulator'
An employment tribunal in June found Helen Marks, who was in a personal relationship with the then chairman Alan Baines, had been harassed after refusing to have sexual relations with him.
It heard when she refused he turned against her, abusing his position and suspending her without justification.
He was described in the tribunal's findings as a "bully and manipulator".
The tribunal also found Prof Trenchard protected Mr Baines, who was allowed to retire with his "good name" intact.
Deputy regional director for Monitor, Alexandra Coull, said: "The employment tribunal case against the trust identified some significant issues, and as a result we believe it is right for us to examine how well the trust is being run on behalf of its patients.
"We want to understand the underlying causes of the problems identified by the employment tribunal, and find out whether the trust needs to make improvements to the way it is being run."
In a statement, the trust said: "We welcome Monitor's involvement and support as we seek to strengthen our systems of governance.
"We have developed an action plan to identify improvements in our policies, procedures and structures."