American Adventure site homes plan given go-ahead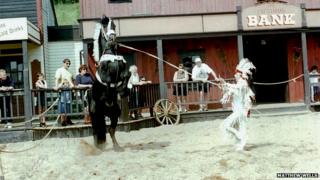 Plans for 300 homes on the site of a former Wild West-themed amusement park have been approved.
The American Adventure in Derbyshire closed in 2007 and the land has been unused ever since.
Two previous attempts by developers Waystone to gain planning permission from Amber Valley Borough Council have been turned down since 2012.
Councillor Paul Jones, who opposed the plan, said the development will be too "intense".
He cited proposals for a retirement village, a pub and hotel as part of the grounds for his objection.
The council previously rejected the plan for the 112-acre site, saying it wanted more details and that the proposals were not in keeping with the area.
It has now been approved in principle, but Waystones will have to submit a full planning application containing more details.
The theme park was opened as Britannia Park in 1985, becoming the American Adventure two years later.
During that time, the neighbouring towns of Ilkeston and Heanor could be gridlocked with visitors, and Mr Jones said the new homes could increase traffic.
"I recognise it needs to be developed, I am just disappointed at the intensity of the site," he said.
Waystones managing director Stuart McLoughlin said it would be no more intrusive than the rollercoasters were.
He said he was "relieved" it had finally been given permission.
The firm said it hopes residents could move in by 2018.