Middlepeak Quarry water turned black to stop swimming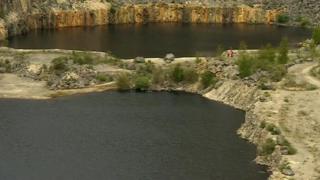 Water at a disused quarry in Derbyshire has been dyed black to deter people from swimming there.
The action was taken at Middlepeak Quarry, in Wirksworth, to prevent accidents and deaths at the site.
The Mineral Products Association (MPA) said there were 15 deaths in quarry lakes in the space of two years in the UK.
The MPA, which is leading a national campaign about the dangers, said dying water was "very effective".
It said that immersion in cold water could dramatically affect even a strong swimmer's abilities.
Martin Isles, from the MPA, said: "It's a natural water table and it can be attractive to people to swim [but] they don't understand the hazards in cold and deep water."
In 2013, a pool at a disused quarry at Harpur Hill, near Buxton, known locally as the Blue Lagoon, was dyed black in a bid to deter people from swimming in it.
The public were also warned the water contained rubbish and dead animals.
The water at the site had a pH level of 11.3 (bleach has a pH level of 12.3) but dozens of people still swam there.