Derby brides-to-be left without wedding dresses after firm shuts down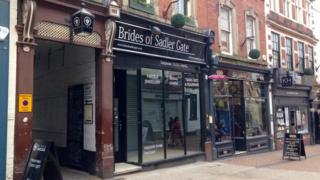 Brides-to-be have been left without their wedding dresses, despite having paid for them, after a bridal wear firm has suddenly closed.
Women have contacted the BBC after they struggled to get in touch with Brides of Sadler Gate in Derby.
Kelly Bell said preparations for her wedding had been made "stressful" after her £750 dress never arrived.
The firm said it had closed due to "personal and health reasons" but orders would be honoured or refunded.
'Tarnished'
Ms Bell's retired parents paid for the dress as a gift after she saw the dress in the window of the shop in the city centre.
"What's happened has tarnished the whole thing because as a woman on your wedding day, it's supposed to be the one day where you are special and you're being pampered," she said. "But for me it's just been stressful and horrible."
She called company director Amy Phillips in March about the dress but started "panicking" in May when the she was unable to contact her by phone or email and the website had gone offline. She later discovered the shop had closed.
"I contacted the manufacturer [of the dress] myself and found out earlier this week it was never even ordered," she said.
Ms Bell, of Chaddesden, who gets married in August, has since bought a new dress which she said was "beautiful" but "isn't the original dress I picked".
BBC Radio Derby has had calls from a number of women in a the same position.
In a statement Ms Phillips said the Derby firm was permanently closed because of "personal and health issues".
"As it currently stands no orders are going to be left unfulfilled and in the event a dress... becomes unable to be provided a full refund would be offered," she said.