Derby truancy figures among worst in England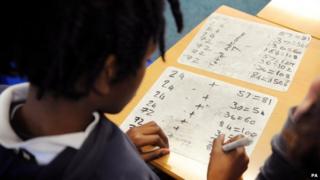 Derby has one of the worst records for truancy in primary schools in the country, according to new figures.
Figures from the Department for Education showed the city has the highest rates of unauthorised absence in England.
And Derby is the second worst place in England for the number of pupils who persistently play truant.
The Labour-run city council said it has "challenges" to improve its truancy figures and help vulnerable families.
Derby comes joint top with Nottingham, Blackpool, Stoke, Enfield and Weymouth, with 1.5% of primary school children taking unauthorised absences last year.
The national figures showed more than 600 pupils (3.2%) in Derby also regularly skipped school in the past academic year, second to Knowsley in Merseyside.
'Creating barriers'
Sue Arguile, from the National Union of Teachers in Derby, said there were many reasons for children missing school.
"Stats such as these are not helpful... they mask what's really going on," she said.
"This is more about unpicking the reasons why children don't go to school or why their parents don't make them."
She said the process of fining or prosecuting was "creating barriers" between parents and teachers.
Figures obtained through a Freedom of Information request showed the city council has issued 571 penalty notices over unauthorised absence so far in the 2014-15 academic year.
Since 2012 the council has collected £75,680 in truancy fines for primary school absences and five parents of secondary school children have been jailed.
Councillor Sara Bolton, cabinet member for safeguarding and children and young people, said early intervention was important to deal with the issue.
She said: "Fining and prosecutions is the last resort if parents won't co-operate with the school, local authority or education welfare officer."
She added: "There are challenging families and they need help so early intervention is something we will prioritise."