Derby's Old Bell Hotel pub reopens ballroom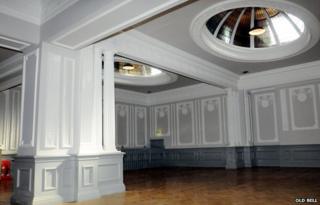 A 17th Century pub is to reopen its newly refurbished ballroom later with features not seen in decades.
The Old Bell Inn in Derby is one of a handful of pubs claiming to be the city's oldest.
The Sadler Gate pub closed in 2012 after a man was killed on the street outside but new owner Paul Hurst has spent more than £1m refurbishing it.
The Jacobean former coaching inn's ballroom was used as a nightclub from the 1960s to the 1980s.
"Back in the '60s, '70s and '80s, people didn't want to see this, they just wanted to hide it and have it as some modern nightclub," said Mr Hurst.
"They hid a lot of the detail that you see today. Now people are much more into their architecture and we've destroyed so many buildings over the years in our city that now they do want something special."
Glass domes in the ceiling of the Grand Regency Ballroom, which were sealed up for 40 to 50 years, have been restored, Mr Hurst said.
The ballroom was created in 1929 when three separate rooms were knocked through.
Events manager Louise Luckett said one of the abiding memories of the pub was "black, sticky carpets".
"Everybody remembers that but of course it's completely disappeared and there are nice wooden floors now," she said.
"Now I walk in and it's just absolutely stunning. It's just incredible."
"One lady stopped me out the front who used to come here when she was a student nurse and now she's 89 - everyone's got a memory," said Mr Hurst.
There are plans to reopen the hotel section of the building, he added.