Derby NHS trust fined £250,000 for handover delays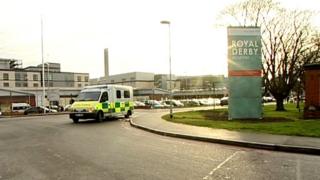 An NHS trust has been fined more than £250,000 in the past year for delays in handovers from ambulance crews to hospital staff.
The Derby Teaching Hospitals NHS Trust has to pay between £200 to £1,000 every time a patient is left waiting to be handed over to hospital staff.
A report from the trust said 1,200 people waited more than 30 minutes and a further 25 waited more than an hour.
The trust said it was working on making improvements to its handover times.
Andy Proctor from the College of Paramedics said the delays were a national problem.
'Care comes first'
He said: "It is very challenging for paramedics because you want to do the very best for the patient but when A&E and the hospital is so busy you are not able to."
Mr Proctor said patients sometimes wait in corridors or an ambulance until a clinician is free for a handover or a bed becomes available.
Jenny Deakin, from the trust, said: "Giving the right care will always come first.
"For those patients who come in with severe injuries and traumas requiring protracted care, the priority is providing that care and this priority will inevitably lead to understandable delays.
"Equally, we have recently experienced unprecedented demand for our services throughout the winter and into the spring. We saw our record for the number of patients seen in A&E in the course of one day broken three times."
She said since November the trust had introduced new procedures with the East Midlands Ambulance Service (EMAS) on how handovers should be conducted.