Will Page: Tributes over Ilkeston parking barrier death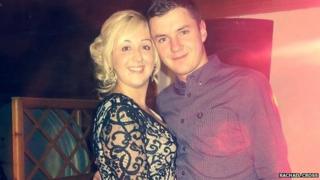 Tributes have been paid to a father-to-be who was crushed to death by a parking barrier in Derbyshire.
Will Page, 22, died after a barrier hit the van he was driving as he left an industrial estate in Ilkeston.
His partner, Rachael Cross, who is nine weeks pregnant with their first child, said she had had a private scan of the baby and would bury the image with him.
The Health and Safety Executive (HSE) confirmed it is investigating the death alongside Derbyshire Police.
A Derbyshire Police spokeswoman confirmed Mr Page died at the scene after being hit by a parking barrier which struck his van as he drove out of an industrial estate on Digby Street on Saturday.
'Make him proud'
Miss Cross said she was pleased that they had been able to tell Mr Page's family they were expecting a baby the day before his death.
She said the situation was "absolutely heart-breaking" but had been touched by well-wishers.
"I started thinking 'Oh no, I'm going to be a single parent and living on my own' but I didn't realise how much support I was going to get.
"These past few days have been amazing with people wanting to throw donations at me and help the baby out.
"I will do it myself and I'll make him proud."
Mr Page's family said he was an avid car enthusiast.
On Sunday evening, about 90 cars took part in a procession past Mr Page's Stanley Common home and beeped their horns in his honour before gathering at Wyvern Retail Park.
Mr Page's family have set up an online fundraising page in his memory, which has already raised almost £3,000.
It was initially set up to pay for his funeral but left over funds are to be donated to his unborn child.