Assembly Rooms fire: Building failings 'worsened blaze', report finds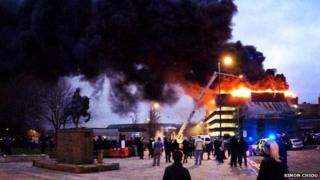 Poor design and maintenance made a fire that broke out at a Derby concert venue worse, a draft report has found.
The council-run Assembly Rooms was left badly damaged by smoke in March last year and has not reopened since.
The report found holes in internal fire walls could have also resulted in "significant, unexpected fire spread".
Paul Robinson, acting chief executive of Derby City Council, said the authority was "not entirely happy" with the context of the report.
The findings, he said, should be put into the context of a 38-year-old building.
£5.5m insurance claim
"The report alludes to the historic problems that a building of that age can have," Mr Robinson said.
A poorly maintained ventilation system and concerns over the installation of flammable polystyrene were also highlighted by BB7, a firm of fire safety consultants.
They also said the council was fortunate the fire broke out on top of the car park, as other parts of the building would not have been more difficult to access.
A total of 75 firefighters and 16 fire engines fought the flames and a plume of dense black smoke was left hanging across the city after the fire.
Mr Robinson revealed the draft report had been sent to insurers, as part of the council's £5.5m claim.
He said: "We're very near to a negotiated settlement.
"To date we've had no concerns raised."