Bolsover 'hotbed of Satanism' claims dismissed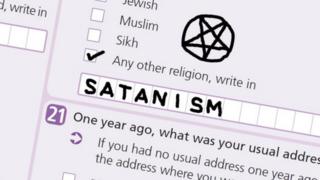 Satanists have dismissed claims that a Derbyshire district is a "hotbed of Satanism" or the "Satanic capital of Britain".
In the most recent census, 17 people in Bolsover wrote Satanism as their religion.
This suggested it had the highest concentration of Satanists in England and Wales.
But the Church of Satan believes many people had lied on their census forms because they "think it is funny".
Priestess Serena Malone, administrator for the Church of Satan, said: "We tend to think someone is playing a prank here.
"While we have many members throughout the UK, that area does not have any exceptional concentration of our adherents."
The Church of Satan said it does not give out statistics on where its members are based, because "many bigoted people still see us as some form of threat".
'No Satanic activity'
The organisation was established in San Francisco in 1966, and says its members are atheists and do not worship the devil.
However, Satanism is a broad term and many other people may identify themselves as Satanists.
Bolsover District Council also believes the census results are not reliable.
Ken Walker, chairman of the council, said he had not heard of Satanic activity in the area.
"There's the usual traditional harvest festivals or flower festival, but that's more or less a fundraising job for the churches," he said.
"I think it's a load of rubbish."
The district of Bolsover includes the towns of Bolsover and Shirebrook and several villages.
There are many former mining communities in the district and the area's MP Dennis Skinner, a former miner, is nicknamed The Beast of Bolsover because of his outspokenness.
A total of 1,893 people wrote Satanism as their religion in the 2011 census.
In Bristol, 34 people said Satanism was their religion - the highest number out of anywhere in England and Wales.
However, Bristol has a higher population than Bolsover, so the concentration was lower.
Derbyshire Constabulary said it was not aware of any incidents reported in Bolsover - or anywhere else - which could be connected to Satanism.
How many people said they were Satanists in your area?
District or unitary authority
Religion - Satanism
Population
Bristol, City of
34
428,234
County Durham
31
513,242
Leeds
29
751,485
Birmingham
29
1,073,045
Liverpool
27
466,415
Manchester
26
503,127
Cornwall
26
532,273
Brighton and Hove
23
273,369
Sheffield
22
552,698
Kingston upon Hull, City of
20
256,406
Leicester
20
329,839
Wirral
18
319,783
Stoke-on-Trent
18
249,008
Hackney
18
246,270
Southampton
18
236,882
Kirklees
17
422,458
Nottingham
17
305,680
Bolsover
17
75,866
Bournemouth
17
183,491
Plymouth
17
256,384