UKIP 'linked to Holocaust' during Derby school assembly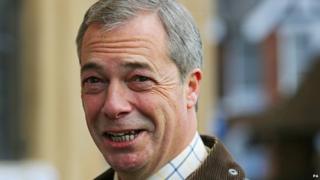 UKIP are considering legal action against a school that it claims linked the party with the Holocaust during an assembly.
Chellaston Academy in Derby showed a slide featuring a picture of Nigel Farage and a comment he made about Romanians.
UKIP's East Midlands chairman Alan Graves has accused the school of "political indoctrination".
The school said it would not comment on the matter.
The slide showed the party leader alongside a quote referring to comments he made last year claiming people would be concerned if Romanians moved in next door.
The slide published in the Daily Express was headed "There's no way modern Britain could repeat Melita's mistakes... right?", referring to Melita Maschmann, a diarist who was a member of the Hitler Youth and a Nazi propagandist.
Mr Graves said it was "unacceptable" to link the party with Nazism.
"Having an opinion about who your neighbours are is not the same as being a Nazi," he said.
It also featured an image of former UKIP member David Silvester who was expelled from the party after he linked gay marriage to flooding.
The presentation was made to mark the 70th anniversary of the Holocaust. Mr Graves said it "degrades the memory" of the mass killings of six million Jews and other minority groups.
UKIP's legal department is complaining to the Department of Education, he said, and is considering legal action.
"There are thousands of people out here absolutely outraged that they've linked us, UKIP members, UKIP voters, with the Nazi party. It is not acceptable in today's education," he said.
"We believe they've breached the Education Act under political indoctrination."