Man arrested over Derby County pitch encroachment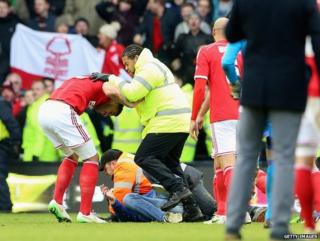 A man has been arrested on suspicion of pitch encroachment after Nottingham Forest's Kelvin Wilson was allegedly attacked at the end of a match.
The arrest came following the final whistle at Derby County's iPro Stadium.
Following the game - which the Reds won 2-1 - a car belonging to Nottingham Forest chairman Fawaz Al Hasawi was found vandalised.
Derbyshire Police said it is investigating that and reports of a coach window being smashed.
A spokesperson for the force said damage to the car was thought to have happened between 13:15 and 14:30 GMT, while the car was parked in the directors' car park at the stadium.
Police said there was damage to the front and rear tyres and a rear panel of the car had been dented.
Mr Al Hasawi tweeted a photo of a Mercedes-Benz Viano with a tyre slashed and a number plate removed.
It read: "Very professional! But in the end I don't mind at all! The 3 points are more important!"