Tributes to Derby basketball coach Clarence Wiggins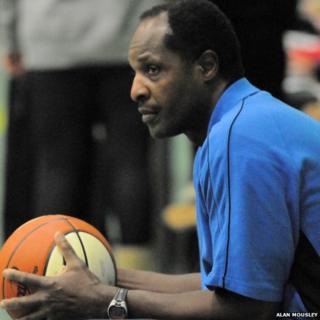 An American-born basketball player and coach who died suddenly in Derby has been described as "an incredible servant to the sport".
Clarence Wiggins, 58, who was born in North Carolina, was a player and coach in Derby for more than 30 years.
Derby Trailblazers chairman Charlie Wright said: "No single person has played a more significant role in the development of basketball in Derby."
He was also a teacher at the Noel-Baker Community School in Alvaston, Derby.
'Terrific player'
"It's unbelievable to think he's not here any more. He's simply irreplaceable," former City of Derby Basketball Club director Martin Shaw said.
Wiggins arrived in Derby in 1983 and played for the City of Derby Basketball Club before helping set up the Derby Trailblazers.
He worked as a mentor and coach until his death, with around 70-80 youngsters aged between five and 13 years attending his training sessions every Saturday morning.
Wiggins died on 29 December.
"He was a terrific player in his day and he subsequently channelled his love for the game into coaching other people," Mr Wright added.