Petition to save Ozbox, Derbyshire Police's anti-crime boxing scheme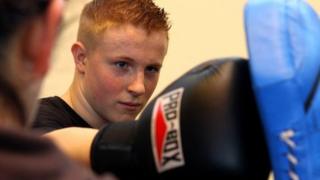 More than 700 people have signed a petition to save an anti-crime boxing fitness programme used by about 9,000 young people a week.
Derbyshire Police has said it will stop running Ozbox in March after it failed to secure lottery funding for the £430,000-a-year scheme.
It would be "unsustainable" to fund the scheme itself, the force said.
Debbie Saxby said Ozbox helped her sons learn discipline and keeps young people out of gang crime.
"My younger son was really quite reserved but it brought him out of himself and made him more confident," she said.
"I think the sense of discipline instilled in them is really good because I think some children need more direction in their life."
'Not without a fight'
Derbyshire police officer Steve Osbaldeston was given an MBE in 2011 for setting up Ozbox, which has now been running for more than a decade.
About 9,000 young people, aged between 11 and 19, use the scheme every week in gyms across Derbyshire.
The petition was set up by a user of the service and there are plans to take a letter to the Prime Minister
Niamh Toner, 15, said Ozbox helped her when her parents split up.
"It's given me a stable environment when I felt I didn't have one. Ozbox has kind of offered me a new family and we're all close.
"We're not going down without a fight - I mean, we're boxers at the end of the day."
Deputy Chief Constable Alan Goodwin said for the last three years the running cost had been met by a combination of county council and Big Lottery funding, as well as a small contribution from the force.
"From 31 March, lottery funding is gone. The county council - for absolutely understandable reasons, they've got their own financial challenges - their contribution has gone.
"For the force to meet the full £430,000 for the year, that's really unsustainable."