Chesterfield hotel staff save snow-stranded motorists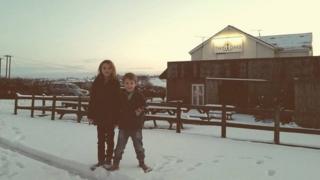 Staff at a hotel have been branded heroes after opening up following heavy snow which left a number of people stranded on roads in Derbyshire.
The Twin Oaks Hotel, in Chesterfield, was closed on Boxing Day but staff rallied round when families turned up unable to continue their journeys.
Hotel manager Rob Lee said the people were "desperate" and needed help.
Rob Salmon, who got stuck travelling on the M1 from York to Derby, said the help was "beyond the call of duty".
'Saved our bacon'
Mr Salmon said it was the worst snow he had ever driven in and then one of his windscreen wipers failed.
"I couldn't pull in because of M1 roadworks. I couldn't see much at all but managed to get to next junction.
"There were cars and lorries stranded everywhere."
He managed to get off at junction 29 and followed a sign to a hotel but on arrival he realised it was closed.
However, a chef, who lives on site, opened up and let them all inside. Mr Lee turned up later when more families arrived.
Vehicles were dug out of the snow and in the morning staff walked into work to cook breakfast for the people who had stayed over.
"They couldn't do enough for us, they were absolutely lovely, they saved our bacon," said Mr Salmon.
"We couldn't have gone anywhere else, we would have slept in the car."
Mr Lee said: "There were quite a lot of stranded people... we couldn't leave them.
"They were desperate... they couldn't have kept going, they would have had to stay in cars."