Etwall's John Port School sends letters over sex-related texts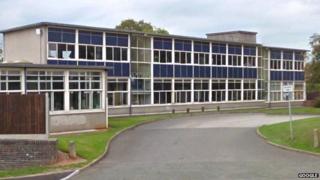 A secondary school has sent thousands of letters to parents about investigations into "sexting" scams.
John Port School in Derbyshire said an individual had threatened to publicise inappropriate pictures of girls, which he claimed to have obtained.
Derbyshire Police said it has arrested a 16-year-old boy in connection with the incident.
Pupils' mobile phones containing inappropriate pictures of girls have been handed to police, the school said.
Sexting is a term used for sending explicit pictures via text message or over the internet.
The school in Etwall said in a letter posted on its website that police were investigating four incidents involving indecent pictures of pupils.
'Further demand'
It said a man had contacted girls saying he was "prepared to publicise widely" inappropriate pictures of them unless he received more photographs.
The boy arrested in connection with this incident is not a pupil, the school has confirmed.
John Foxon, assistant head teacher of John Port, said: "This school has no more or less a problem than any other school.
"As a school community, we need to address it and give our young people the maximum protection and safeguarding measures."
In a separate incident, three individuals, claiming to be John Port students, had sent female pupils "indecent male images" via social networking site Instagram and asked for intimate images in return.
Social media advice
Another individual offered male students pictures of herself in return for intimate pictures of them.
The letter said "as far as we are aware" students had not sent images but instead reported the incidents to staff.
In a fourth incident, boys' phones containing images of female pupils have been handed to Derbyshire Police.
"Once images have been obtained in this way there is a potential for further pressure to be exerted on the young person," wrote head teacher Chris Sainsbury.
He said students have been told of the risks of using social media and advised them to have privacy settings at the highest level.