Buxton gas main ruptures shoots flames through the air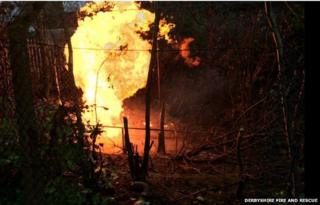 Flames leapt several feet into the air when a gas main ruptured in a town centre, police have said.
Emergency services put a 50m cordon in place and closed a busy road through Buxton following the blaze at about 00:20 GMT.
Derbyshire Police said they believe a gas pipe had ruptured in a wooded area off Charles Street.
Some railway services were cancelled as part of the line passes near the site of the fire.
Footage of the blaze has been uploaded to YouTube.
A police spokesman said Charles Street remains closed at its junction with Bridge Street and an Aldi supermarket has been closed for the day.
No-one has been injured and there is thought to be no risk to other nearby properties.