Moorways pool closure: Derventio Excel club coach shocked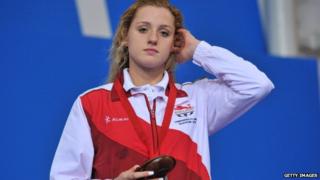 A swimming club has said plans to close a pool in Derby used for training will have a huge impact on producing new elite swimmers.
Derventio Excel - which used to coach Commonwealth Games medallist Molly Renshaw - meets at Moorways swimming pool, which is due to shut from April.
Head coach, Andi Manley, said the city council decision had left no "viable alternative" for the club to train at.
The authority said a new facility was planned for the same site in 2017.
However, Mr Manley said: "[We] can't twiddle our thumbs until then.
"The news came as a shock. We knew there was a restructure planned, but closing the pool was a bolt from the blue."
He admitted the Moorways pool, which is 33m in length, was in need of updating but he said closing it left just one other public pool in the city - at the Queen's Leisure Centre.
But the City of Derby Swimming Club already trains there.
Mr Manley said: "You couldn't fit the multitude of users into that pool... [Closing the pool is] denying elite swimmers to be successful."
Derby City Council said it had to save £79m in three years, describing its cuts as the "toughest" in the city's history.
It said closing the pool would save about £350,000 a year.
Martin Rawson, deputy leader of the Labour-led authority, said building a new 50m pool in three years time would be a great opportunity.
He said: "I appreciate there would be a period of time when Moorways will be closed, however there is [Queen's Leisure Centre] and private sector pools around the city."
Ross Davenport, who won two gold medals at the Commonwealth Games in Melbourne, also used to train at Moorways.