London Road bridge in Derby opens after £7m revamp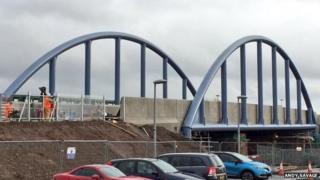 A bridge, which has been closed to motorists in Derbyshire for more than a year, has reopened after a £7m revamp.
Work to replace the 135-year-old railway bridge on London Road in Derby, began in August 2013 after it was deemed to be unsafe for heavy traffic.
The opening of the new metal bridge was delayed this summer after Network Rail blamed issues with the "design and build" and "supply of the steel".
The council said removal of the weight restriction would open it to everyone.
Phil Massey, from Derby City Council, said: "Now anybody coming through the city from the south has that choice again to use London Road.
"We think it will be quite significant because it has been 10 years since it was unrestricted."
Seven years ago vehicles weighing more than 7.5 tonnes were banned from crossing the bridge.
James Salmon, from the nearby Brunswick Inn, said he was delighted with the news.
"The past 15 months have been pretty rough," he said.
"It's one of the main routes into the area and it's really affected trade and has been incredibly inconvenient for residents and businesses."
He described the reopening as "the best Christmas present we could've hoped for".