Big freeze at 'beetle mania' Old House Museum, Bakewell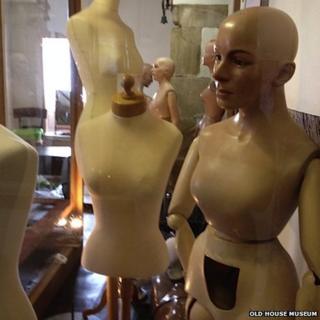 A museum invaded by carpet beetles says it has had a "fantastic response" to an appeal for help to save its collection of clothes.
In August, evidence of the beetles and their larvae was found on clothing at the Old House Museum in Bakewell, Derbyshire.
Staff then began freezing batches of clothing in a chest freezer to wipe out the bugs.
It has since had offers of help from an ice cream firm and several butchers.
Museum manager Anita Spencer said "beetle mania" hit the attraction following a number of mild winters, wet springs and hot humid summers.
"A perfect environment for them," she said.
She said an appeal for a walk-in freezer to speed up the eradication process prompted a "fantastic response".
Carpet beetles
Adult carpet beetles feed on pollen but the larvae, known as woolly bears, feed on natural fibres including carpets, curtains and fur
They can be a serious pest in the home as well as at museums
Infestations can be prevented by regular vacuum cleaning, and methods of killing them include freezing them or using insecticide
"The museum has been given storage space at an ice cream firm in Nottingham and offered space by local butchers.
"Unfortunately, butchers' freezers are not cold enough.
"They don't quite go down to the -30 temperature we need and as we don't want to do this job again we need to make sure we kill the eggs and any beetles that are there."
As well as recruiting more volunteers, the museum has also set pheromone traps to catch male beetles in a bid to stop the breeding cycle.
Staff said they expect to have completed the process over the next four weeks.
The museum is based at a house dating from 1534 that was originally the farmhouse home of a tax collector.
Industrial Revolution entrepreneur Richard Arkwright later converted the house into cottages to accommodate his mill workers.
Many of the displays are of lace, textiles and clothing - all ideal food for carpet beetles.