WW1 soldier's medal rescued from skip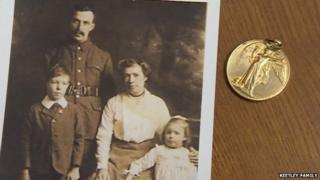 A World War One medal has been returned to the soldier's descendants after it was found in a skip by a worker.
Bob Manners saved the Victory Medal while working at a rubbish tip 15 years ago and held on to it until recently.
This year he decided to trace the soldier's family who had been missing the medal for 50 years after it was stolen from the family home in Derby.
The medal belonged to Private John French, who served with the Notts and Derby regiment between 1915 and 1919.
His granddaughter Audrey Keetley said it was "a miracle" to have the medal back in the family.
Mr Manners, 75, found the medal among other metals in a skip while carrying out maintenance work at a recycling plant.
"I thought you can't be throwing it in the smelting pot so I picked it up, polished it and kept it," he said,
"I never thought anymore about it until this year.
"Being the centenary, I began to wonder what John was like and thought if it was my grandfather I would want it back."
Last week Mr Manners put an appeal out on BBC Radio Derby to help trace the family.
Fortunately Mrs Keetley's nephew was listening and got in touch.
Her husband Arthur said: "The name was right and the regimental number was right so immediately we knew that was it after all these years.
"The family has been looking for this for a long time.
"We never thought we would see it again.
"We were somewhat taken aback when we heard it had been found, but highly delighted."
The medal will now join other items treasured by the family which include photographs and postcards Pte French sent from the trenches to his wife Florence in Derby.