Army sheep switches on town's Christmas lights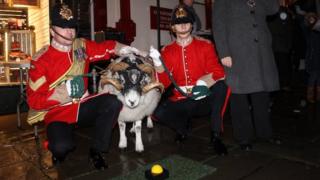 A sheep has used his cloven hoof to turn on the Christmas lights in a Derbyshire town.
Private Derby XXX, mascot of the local Mercian Regiment, trod on a specially designed switch to light up Ashbourne.
The Swaledale ram, described as "quite intelligent", only attracted a small crowd in the town's market place as many were put off by rain.
Mayor Sandra Spencer said she wanted something "totally different" for this year's switch-on.
Mrs Spencer said: "My charity this year is Help for Heroes and the town has got a link with the Mercian Regiment, so I just wanted something unusual that would bring more people into the town."
Private Derby XXX, the 30th ram to hold the title, used a special rubber switch designed by Mrs Spencer's husband to ensure his hoof could not miss.
"I do believe he's quite intelligent, I've been told," she said.
Private Derby was not the only furry mascot at the event - Help For Heroes' Army Bear and Gully Mouse from nearby Matlock Bath's Gulliver's Kingdom were also on hand.
Private Derby XXX (30th)
Private Derby is the 30th in a line of mascot rams running back to the Indian Mutiny War in the mid-19th Century
He is officially classed as a soldier with an ID card and Army number
He even draws a wage for his rations - £3.75 a day
He was adopted as a mascot in 1858 by the 95th (Derbyshire) Regiment of Foot
The fighting ram found tethered in a temple yard was marched nearly 3,000 miles with the soldiers through central India before it died in 1863
It became the Mercian Regiment mascot when it formed in 2007
It has become tradition for the Duke of Devonshire to select a Swaledale ram from his Chatsworth Park flock and present it to the regiment
He continues to take a holiday on the Chatsworth estate in Derbyshire every year during mating season