Normanton body find: Newspaper clue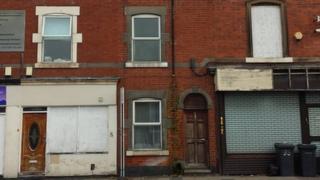 A newspaper dated exactly four years ago, found near a man's badly decomposed body, could be the only clue to when he died.
The man, presumed to be retired pall bearer Michael Crawford, was discovered at his home by a locksmith in Normanton, Derby, in April.
Recording an open conclusion, a coroner said the man had no relatives and no dental records.
A former colleague described the man, in his 60s, as "a bit of a loner".
Geoff Abrahard, who had worked alongside him at a funeral parlour in Derby, said Mr Crawford had lived with his mother at the mid-terraced house in Normanton Road until her death in the early 1990s.
Police confirmed that a newspaper dated 21 November 2010 was found in a satchel inside the home.
Assistant coroner for Derby and South Derbyshire Louise Pinder told an inquest in Derby on Wednesday a post-mortem examination could not determine what caused his death.
"He had not been seen alive for many years. He had no significant past medical history and was an infrequent visitor to his general practitioner.
"The house was secure when he was found and there was no evidence of any third party involvement nor evidence that he had taken his own life," she said.
Alexandra Hamilton, BBC Radio Derby
There's nothing remarkable about the mid-terraced house where Mr Crawford died.
There's a bus stop just outside but passengers would have no reason to think the house was anything more than a disused residential address.
There are grey net curtains at the downstairs window and the paint is peeling off the front door.
The home's sandwiched between a boarded up business on one side and flats on the other side where the occupants change frequently.