Derby County unveils plaque to players killed in WW1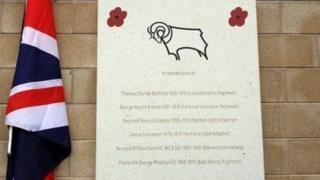 A plaque honouring Derby County players killed during World War One has been unveiled at the team's ground.
About 200 fans attended the service which took place ahead of the Rams' 5-0 win against Wolves, on Saturday.
The plaque, which has been made from white Spanish dolomite, lists six club players who died in action.
Those honoured are Thomas Benfield, George Brooks, Reginald Callender, James Stevenson, Bernard Vann and Frederick Wheatcroft.
Bernard Vann's grandson, Michael, who was at the ceremony, said: "It is a truly fantastic honour."
He said: "When he played for Derby County he was centre forward - in the 14-15 season.
"He then joined the Sherwood Foresters and sadly died within a month of the armistice in 1918 - so fought his way through the war."
Bernard Vann, who was also a chaplain, was awarded the Victoria Cross after he led his battalion across the St Quentin Canal through thick fog and under heavy fire.
His story can be heard on the BBC's World War One at Home website.
Derby Telegraph columnist and Rams historian Anton Rippon said of the unveiling ceremony and match.
"It's particularly fitting that the opponents should be Wolves. They were once managed by Major Frank Buckley, who captained the Rams' 1913-14 team and who, in World War One, served in the 17th Middlesex Regiment that was famously known as the Footballers' Battalion."
Regiments represented by the players
Thomas Benfield - Leicestershire Regiment
George Brooks - York and Lancaster Regiment
Reg Callender - Durham Light Infantry
James Stevenson - Highland Light Infantry
Bernard Vann VC - Sherwood Foresters
Fred Wheatcroft - East Surrey Regiment