Derby explorer Sir George Clarke Simpson honoured with blue plaque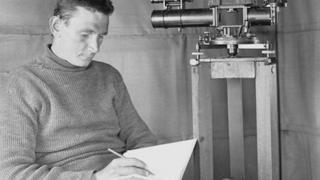 A meteorologist and polar explorer who was a member of Captain Robert Falcon Scott's expedition team has been honoured with a blue plaque.
Sir George Clarke, nicknamed Sunny Jim by fellow explorers, was born in 1878 and spent his early years in Derby.
His plaque, which has been placed at his birthplace in East Street, Derby, is the 12th in the city to be unveiled.
Mayor Shiraz Khan said Sir George was an "inspirational figure" and another reason for the city to be proud.
Sir George was named as the meteorologist for Robert Falcon Scott's famous Antarctic Terra Nova Expedition in 1910.
He constructed one of Antarctica's first weather stations, conducting balloon experiments to test the atmosphere and determine how altitude affects temperature.
'Pioneer' and 'inspirational'
He also held command of this station for several months when Scott and his party left for their ill-fated journey to the South Pole in November 1911.
Scott and his party died months later, 150 miles away from base camp, of cold and exhaustion, but Sir George survived.
Sir George went on to become an important pioneer of meteorological science, being the first person to lecture in meteorology at a British University.
His work involved research in lightning, devising the Simpson wind force scale (Beaufort Scale) and experiments on altitude affecting temperature.
He was honoured with a Knighthood for his services in 1935 and died 30 years later, aged 86.
Derby City Council and Derby Civic Society unveiled the blue plaque at his birthplace on Friday.
Mayor of Derby, Councillor Shiraz Khan, said: "Sir George is undoubtedly an inspirational figure in his area of work and is yet another reason for our pride in the city."
Derby Museum and Art Gallery will be displaying Sir George artefacts for a week from Friday.