Derbyshire badger vaccinations reach 75%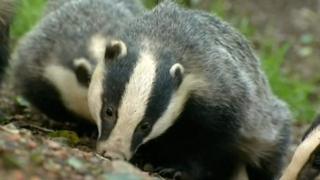 Derbyshire Wildlife Trust has completed its first season of badger vaccinations in a programme that aims to prevent the need for culling.
The trust began treating badgers on nine of its nature reserves six months ago to tackle the spread of bovine TB.
So far more than 75% of badgers have been vaccinated which the trust said was a "very good start".
The Department for Environment Food and Rural Affairs (Defra) has said other methods were still needed.
Trust vaccinator Liz Oldring, said: "Vaccination is a real alternative to culling badgers and we hope to expand the programme further in the south of Derbyshire next year."
The trust said much of the programme's success had been down to working with other organisations such as Derbyshire County Council, the National Farmers Union and the Badger Trust.
It is part of a five-year plan aimed at convincing the government to fund alternatives to culling.
Project leader Tim Birch said vaccinating badgers was a more effective way of preventing the spread of the disease.
"We are leading the way locally and nationally on this important issue and working with multiple partners has been absolutely vital," he said.
He said the trust hopes to expand the programme in Derbyshire with the help of the government to prevent a badger cull.
Defra carried out pilot culls in Gloucestershire and West Somerset last year to try and halt the spread of the disease.
An independent scientific assessment concluded they were not effective and the number of badgers killed fell short of the necessary target.
The Derbyshire Wildlife Trust raised £54,000 for the programme this year and is accepting donations for 2015.