Derby Cattle Market travellers could force bike firm move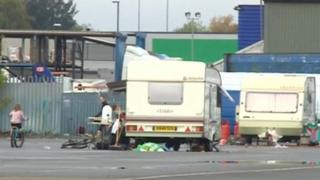 A motorcycle training company has said it may have to move because travellers are occupying the council-owned car park it uses for lessons.
Shires Motorcycle Training has been based at Derby Cattle Market for the past 16 years.
The firm's Paul Nunn said he has had to cancel some lessons due to children running around in areas used by bikes.
The city council said it was taking legal action against the travellers over the illegal encampments.
It is the third time in recent weeks the site in Chequers Rd has been targeted.
Mr Nunn said it was affecting the viability of the business.
"Several lessons have been cancelled and some have even had to postpone taking their test," he said.
"Without the facilities to train we may end up having to look for an alternative site."
The space is also used for a weekly cattle market and a car boot sale on a Sunday.
In a statement, Derby City Council said: "Options for improving the security of the site are currently being considered, but due to the 24/7 use of the site they are problematic.
"The cost of employing security personnel is prohibitive and, unless it is on a 24-hour basis, the travellers would be able to gain access at any time during the day, when the site is in use."
It added: "We are currently following the court procedure to evict the travellers, which is ongoing."